Advanced Facial Esthetics in Gillette, WY
LIFE-CHANGING FACIAL ESTHETICS
CARE Esthetics Gillette offers advanced facial rejuvenation with a holistic approach. They take pride in their natural, toxin-free materials and facial esthetic techniques that focus on delaying and reversing skin aging while tackling various skin problems. The team offers advanced treatments and comprehensive cosmetic services, like Fotona laser therapy, microneedling with Platelet-Rich Fibrin (PRF), and more. So don't wait any further, and schedule an appointment now with CARE Esthetics in Gillette, Wyoming!
SYNERGY DENTAL CENTER
Address: 501 W Lakeway Rd, Gillette, WY 82718, USA
Postal code: 82718
Clinic hours:
Sunday: Closed
Monday: 7:30 am-3:30 pm
Tuesday: 7:30 pm-3:30 pm
Wednesday: 10:00 am-5:00 pm
Thursday: 7:30 am-3:30 pm
Friday: By Appointment
Saturday: Closed
Dr. David Porter, DDS, NMD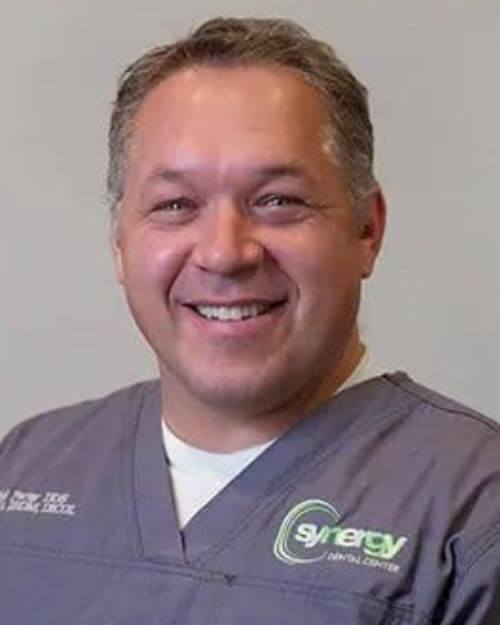 Dr. David Porter takes pride in his modern facial esthetic treatments that have helped numerous patients with aging skin. He gained his knowledge, skills, and techniques in facial esthetics from the Advanced PRF Education training, a three-course program that covers everything about natural facial esthetics. Upon completion of the training, Dr. Porter became Gillette's official CARE Esthetics provider.
Dr. Porter chose dentistry as a career path because he enjoys working with his hands and communicating with others. He earned his Bachelor's Degree in Medicine from the University of Nebraska Medical Center in 2007.
Dr. Porter has contributed countless hours to continuing education in order to provide his patients with the most up-to-date therapies. He is dedicated to helping his patients on their path to good health, which is why he sees patients from all across the region, including Montana, Nebraska, and the Dakotas. He is the first, and usually the only, Wyoming dentist to hold the following achievements:
The first and only naturopathic physician who is board-certified

International Academy of Oral Medicine and Toxicology-certified (IAOMT) SMART technique for amalgam filling removal

The first and only myofunctional therapist to complete a residency training program for the Advanced Lightwire Functional Appliance (ALF)

The first and only provider of orthotropic

The first and only provider of TruDenta

The first and only provider of the Crozat method of orthodontics and the only provider to get special training from the American Academy of Gnathologic Orthopedics (AAGO)

Conducted the first and only residency in the Buteyko breathing technique
Dr. Porter has trained with internationally renowned dentists and physicians. He fully realizes that health and oral health are inextricably linked. He received advanced training in laser dentistry from the Academy of Laser Dentistry, and implant dentistry from the Misch Institute. He keeps on the cutting edge of dentistry by enrolling in advanced training courses and presenting to other dentists at national conventions and seminars.
Among Dr. Porter's other career successes are the following:
International Congress of Oral Implantologists Fellowship

Misch Implant Institute graduate

American College of Integrative Medicine and Dentistry graduate

AAGO graduate

Holistic residency

Orthotropic and orthodontic residencies

Airway mini-residency

Zirconia implant residency
Dr. Porter is now pursuing the ICOI diplomate designation and an Academy of General Dentistry fellowship.
After receiving his DDS, Dr. Porter was delighted to return to his native state. He believes in Gillette and views his opportunity to be a part of such a fantastic community as a blessing. He has witnessed firsthand how people in our community volunteer their time and energy for numerous deserving initiatives. Dr. Porter is equally committed to community service. He has participated in multiple dental days, providing free dental services to neighborhood members. He also supports many other noteworthy projects, including local youth sports programs ranging from intramural through junior and high school football, wrestling, and baseball.
Throughout the community and beyond, patients enjoy Dr. Porter's amazing sense of humor and the fact that he delivers the same medical recommendations to his family as he does to his patients. He appreciates being a vital part of his patients' entire health improvement, not just their dental health.
He was a high school athlete in football, baseball, and wrestling for Newcastle, Wyoming. Additionally, he played baseball in college, where he met his wife, Afton. Following his marriage, he worked in mining in Nevada and Wyoming for three years, earning money to return to dental school in Lincoln, NE.
Dr. Porter has been married to Afton for almost 25 years and is an active participant in their six lovely children's lives, attending their sporting events and engaging in their numerous extracurricular activities. He and his family like to spend their free time outside and travel to the Black Hills to take advantage of the area's numerous activities. He also spends his free time reading and learning about dentistry.
If you have any questions about CARE Esthetics or any of our procedures, please send us a message by filling out the form below. We will get back to you as soon as possible.