Advanced Facial Esthetics in Bozeman, MT
WHERE YOUR COMFORT COMES FIRST
Everyone deserves to have access to the most natural and advanced facial esthetic procedures in the country. At CARE Esthetics Bozeman, they pride themselves on their kind, caring approach to improving the lives of the people in their community. Whether you want to look younger and feel younger or address a more concerning skin problem, relying on their team is a good choice. They offer a variety of cosmetic procedures, including Platelet-Rich Fibrin (PRF) treatment, laser therapy using Fotona, microneedling with PRF, Botox, and many more. Visit them today for more information about their treatments!
Address: 1125 W Kagy Blvd STE 303, Bozeman, MT 59715, USA
Postal code: 59715
Phone number: 406.587.2201
Email address: hello@shinedentalmt.com
Clinic hours:
Sunday: Closed
Monday: 8:00 am-4:00 pm
Tuesday: 8:00 am-4:00 pm
Wednesday: 8:00 am-4:00 pm
Thursday: 8:00 am-4:00 pm
Friday: Closed
Saturday: Closed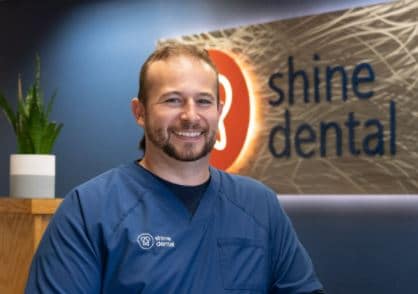 Dr. Steven Justesen is a Doctor of Dental Surgery. He grew up in Moses Lake, WA, where he established a great love for the outdoors. After high school, he served a two-year mission in Poland before returning home to marry his high school sweetheart. He completed his undergraduate and dental education at the University of Washington where he shared his love of learning by mentoring and teaching fourth-year dental students. With ten children of his own, their family loves the outdoors and can be found skiing, sledding or just enjoying the fresh air. Dr. Justesen has always loved helping people feel and look their best. After learning about the benefits of using PRF (platelet rich fibrin) to improve the outcomes of surgical procedures such as extractions, bone grafts, and implants he found that the same technology was available to improve elasticity and skin tone on the face and neck. Dr. J found that once dental needs were completed patients were seeking ways to improve other areas of their face as well. To help meet this need, Dr. Justesen has invested significant time and resources to gain the education that would provide the best results for his patients in the most natural way possible.
If you have any questions about CARE Esthetics or any of our procedures, please send us a message by filling out the form below. We will get back to you as soon as possible.