CARE ESTHETICS ELLISVILLE
Advanced Facial Esthetics in Ellisville, MO
Trusted, Caring & Comfortable Dentistry
We believe that every smile should be a work of art. In fact, we're not happy until you see your smile that way. With CARE Esthetics Ellisvile, you're not just getting a facial esthetics office, you're getting a partner. As a leading cosmetic dentist in St. Louis providing general dental and skin care to families in Wildwood, Ballwin, Ellisville, and Chesterfield, our doctors, Dr. Michael and Jeremy Frith, work with you to create a custom look that is not only attractive, but is also natural looking. You can feel comfortable knowing you and your family have a doctor that listens to your needs and incorporates them into the smile of which you've always dreamed.
MASTERPIECE SMILES
Address: 269 Clarkson Road, Ellisville, Missouri 63011, United States
Postal code: 63011
Phone number: 636.394.5200
Website: https://drfrith.com/
Email address: masterpiecesmiles@drfrith.com
Clinic hours:
Sunday: Closed
Monday: 8:00 am-5:00 pm
Tuesday: 8:00 am-5:00 pm
Wednesday: 8:00 am-5:00 pm
Thursday: 8:00 am-5:00 pm
Friday: 8:00 am-5:00 pm
Saturday: Closed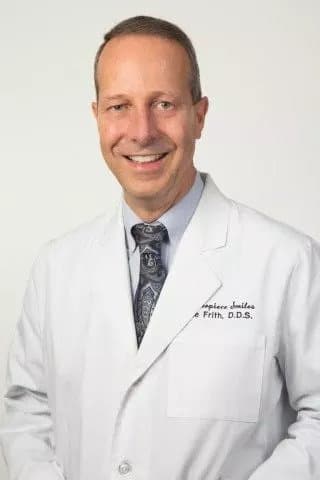 I enjoy hearing patients say I've not only improved their smiles, I've changed their lives."
A smile is a reflection of who you are. Improving it often means a better self-image, and even the confidence to become more successful – in your career or in your personal life."
Dr. Mike Frith
What I Believe…
Being St. Louis's leader in accredited cosmetic dentistry gives patients confidence.
Accreditation by the American Academy of Cosmetic Dentistry sets the very highest standard in cosmetic dentistry. Patients feel comfortable knowing their dentist has achieved excellence in virtually every type of cosmetic case. Less than 1% of dentist nationwide can offer that.
St. Louis' first Diplomate in craniofacial pain and Craniofacial Dental Sleep Medicine gives patients solutions for a new beginning.
With proper evaluation and diagnosis, the conditions of Craniofacial pain, sleep apnea and snoring can be successfully treated with non-surgical therapies. It's my goal to return patients back to where they can breathe, sleep, heal and live again.
Accreditation allows a good dentist to become a great one.
The process has taught me to create smiles that are both attractive and health. I understand that many elements make you great dental health and how to put them together to create a masterpiece for you, my patient.
Education
D.D.S Dental Degree, University of Iowa
Clinical Research Evaluator
CT scan digital 3-D X-Ray
Laser Dentistry
Mini-implant placement and restoration
Implant placement and restoration
Orthodontics training
Deep bleach whitening
Invisalign training
Pankey/Dawson centers for bite correction
TMJ / Sleep Center International Training
LVI Advanced Education
Bio-Research Advanced Equipment Certified
O-zone Healing Certified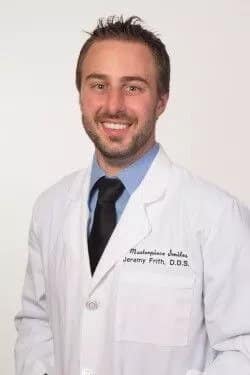 Dr. Frith has dedicated his career to perfecting the art of painless dentistry and creating such a positive atmosphere that his patients actually look forward to their next visit. He believes that communication and developing trust are crucial to understanding every unique situation, which can be calming as well. The cutting-edge materials and techniques he incorporates into his practice only further ensure that you will be treated the way you deserve to be treated: exceptionally.
First graduating from the University of Missouri – Columbia, he then went on to dental school at the University of Missouri – Kansas City. Like his father, Jeremy is incredibly passionate about broadening his knowledge every chance he gets. Post-graduation, he has continued to expand his expertise by attending over 100 credit hours per year of continuing education.
Courses he frequently attends involve such topics as TMJ/TMD (Temporomandibular Joint Dysfunction/Disorder), Craniofacial Pain, Airway, Sleep, Patient Comfort, Digital (High Tech) Dentistry, Healing Laser Therapy, Healing with Laser, Oral Surgery, Periodontics, Implants, Pedodontics, Cosmetic Dentistry, Prolozone and Ozone.
Dr. Frith especially enjoys giving back. Not only has he volunteered his services on mission trips, but he also participates with local organizations like Give Kids A Smile, Mercy Ministries, and Healing Grace.
Professional Achievements
Fellow in AACP (American Academy of Craniofacial Pain)
Diplomate in ABDSM (American Board of Dental Sleep Medicine)
AADSM Qualified Dentist- American Academy of Dental Sleep Medicine
Fellow in AAO (American Association of Ozonotherapy)
Fellow in AGD (Academy of General Dentistry)
Awarded APT (Advanced Prolozone Therapy)
Evaluator for Clinical Research Associates.
Former Vice President of Midwest Dental Sleep Medicine Study Club
Authored Article "Reversal of Permanent Tongue Numbness with MLS Laser & Prolozone/Ozone Therapy-A Case Study
If you have any questions about CARE Esthetics or any of our procedures, please send us a message by filling out the form below. We will get back to you as soon as possible.