Advanced Facial Esthetics in New York, NY
EFFECTIVE AND COMFORTABLE FACIAL ESTHETICS FOR EVERYONE
CARE Esthetics New York is here to help patients reverse signs of facial aging and address various skin issues along the process. Their advanced facial esthetic procedures include platelet-rich fibrin treatments, laser therapies, and more. With a strong commitment to utilizing holistic facial esthetic approaches, they deliver all-natural skin care services using the latest technology available in the field. Visit them for their service that prioritizes your time and comfort and meets and exceeds your expectations.
MADISON AVENUE SMILES
Address: 488 Madison Ave, Suite 1712, New York, NY 10022
Postal code: 10022
Clinic hours:
Sunday: Closed
Monday: 8:00 am-5:00 pm
Tuesday: 8:00 am-5:00 pm
Wednesday: 8:00 am-5:00 pm
Thursday: 8:00 am-5:00 pm
Friday: 8:00 am-5:00 pm
Saturday: Closed
Dr. Anthony Ceccacci, DDS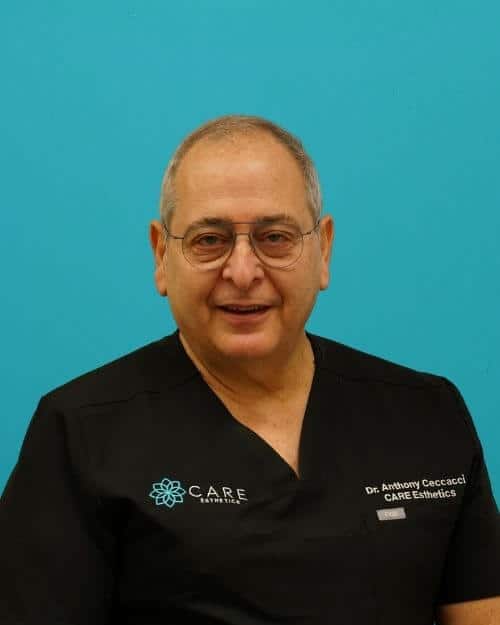 Dr. Anthony Ceccacci is the Official CARE Esthetics provider in New York, NY. He studied advanced facial esthetics at Advanced PRF Education, completing the following courses to provide his patients with outstanding, all-natural, and minimally invasive skin rejuvenation treatments:
Introduction to Natural Facial Esthetics with PRF
Follow the Experts with Dr. Rick Miron
Advanced Facial Esthetics with PRF and Laser Therapy with Dr. Catherine Davies and Dr. Richard Miron
Dr. Ceccacci is the owner of Madison Avenue Smiles, a technological, systemic, full-service digital dental, surgical restorative/facial rejuvenation delivery private practice, optimizing patient treatment outcomes. Focused with 31 years of continuous learning and teaching patient-centric needs experience, his successes are the smiles that follow his treatments. That quality is not accidental but intentionally applied by Dr. Ceccacci.
As an athlete and coach, Dr. Ceccacci also finds time to cycle and participate in triathlon events. In 2003, he finished the world championship full Ironman in Kona, HI. He's a results-driven type 'A' who enjoys beer as well. All in with his patients' treatment needs, Dr. Ceccacci is forever forward-thinking and developing and acquiring skill sets.
Affiliations:
University of Toronto, DDS, NYU, OKU
Residency at Kings County Hospital
Former Associate Clinical Professor NYU
If you have any questions about CARE Esthetics or any of our procedures, please send us a message by filling out the form below. We will get back to you as soon as possible.