Laser therapy is an FDA-approved medical and facial esthetics procedure used to diagnose and treat cancer, as well as various skin, eye, and dental issues. Today, Fotona Laser is one of the leading and highly recognized approaches for skin rejuvenation. But how does Fotona Laser Treatment work?
CARE Esthetics' Fotona Laser Therapy
The Fotona Laser system incorporates two wavelengths of light, enabling far greater regenerative skin outcomes best for hair removal, vein treatment, skin tightening, and everything in between.
CARE Esthetics's Fotona laser therapy uses the most advanced Fotona Laser systems, providing safe and excellent treatments with this state-of-the-art technology with zero side effects. We utilize non-invasive Fotona Lasers with four laser treatment modes that help reduce the appearance of facial veins and acne, remove unwanted hair and moles, and fight skin aging. There are two types of laser therapy packages in CARE Esthetics – the Nd:YAG and Er:YAG.
Nd:YAG penetrates the deepest layer of the skin tissue and promotes collagen formation to restore beautiful and youthful-looking skin. Er:YAG, meanwhile, targets the uppermost layer of the skin to remove tissue tags, moles, age spots, and any type of surface scars. Fotona Laser therapy stimulates new collagen production and tightens and smoothens skin with lasting and natural-looking results.
What Are the Benefits of CARE Esthetics' Fotona Laser Therapy?
Fotona Laser systems are proven and tested with over 50 years of clinical documentation. Aside from helping reduce fine lines and wrinkles, CARE Esthetics' Fotona Laser therapy treats skin conditions like varicose veins, vascular tumors and lesions, pigmented lesions, facial veins, age spots, and freckles.
Fotona Laser systems are specially designed to deliver safe and effective results for your skin without the use of injectables. At CARE Esthetics, our minimally invasive laser therapy with short treatment durations is comfortable and painless. We also ensure the best possible skin rejuvenation outcomes in all our Fotona Laser treatments.
Preparations and Pre-care
Your first step to preparing for your laser therapy is to choose a reliable Fotona Laser therapy provider like CARE Esthetics.
Two weeks before your treatment, be sure to avoid smoking and drinking alcohol to prevent any complications. Do water therapy instead and drink at least a liter of water before your session to help regulate your body temperature. You must also avoid unprotected sun exposure two months before your treatment.
On the day of your session, wear loose-fitting clothes and do not apply any product to keep the area for treatment clean. If you will or must be sedated, have someone accompany you during or after your treatment, so they can assist you if needed.
Be sure to discuss your expectations and your medical history with your doctor – these include past and present medications and any cosmetic procedures you may have had before. However, be advised that the doctor may not allow you to undergo laser therapy if you have a weak immune system, are pregnant, or are breastfeeding.
Side Effects and Aftercare
The most common side effects after laser treatment include swelling, itchiness, numbness, and skin redness. Skin redness is also generally experienced after skin resurfacing treatment. After your Fotona Laser therapy, the treated skin is raw. So, there might be blisters if the laser-treated area is uncared for, which can lead to infections and scarring.
If you experience pain and discomfort after treatment, gently apply an ice pack to reduce the pain. And if you notice and experience excessive pain, visit your doctor immediately.
✔ Keep the laser-treated area clean to avoid infections.
✔ Use soothing gel or creams like aloe vera and sunscreen with high SPF to protect your skin from the sun's heat and UV rays.
✔ Wear loose and comfortable clothing to avoid friction.
✔ Wait for 48 hours before resuming your daily exercises and activities to avoid excessive sweating and too much heat on your laser-treated skin.
✔ Rest from using makeup for at least two days after your treatment.
✘ Do not scrub your skin, and avoid applying too much pressure to prevent infection and help your skin heal faster.
✘ Do not take hot baths, steamy showers, and heat treatments from spas and saunas.
✘ Do not shave, wax, or use tweezers on your laser-treated skin for at least three days after treatment.
✘ Do not apply bleaching products, perfume products, and harsh creams to your skin.
✘ Do not swim in chlorine-filled pools, as these may damage your laser-treated skin.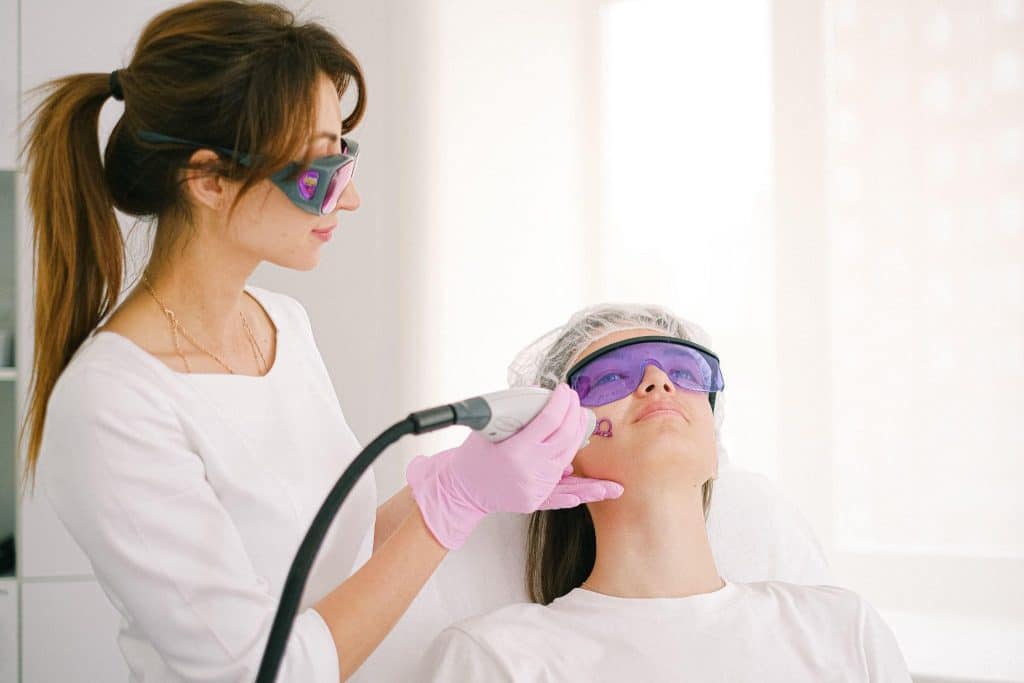 Fotona Laser therapy is a safe skincare treatment that helps address various skin issues, such as wrinkles, freckles, age spots, varicose veins, and more.
Remember to prepare your skin for at least two months before treatment by avoiding unsafe sun exposure, keeping your body clean, and caring for your overall health and well-being. And before getting any Fotona Laser therapy, be sure to inform your doctor about your complete medical history and medications. After treatment, use a good skincare routine to avoid any infections.
Do not forget to keep in touch with your doctor for emergency and follow-up procedures. You may also need some touch-ups to maintain your beautiful skin. Schedule your consultation and experience a youthful, natural glow with CARE Esthetics' Fotona Laser treatment!