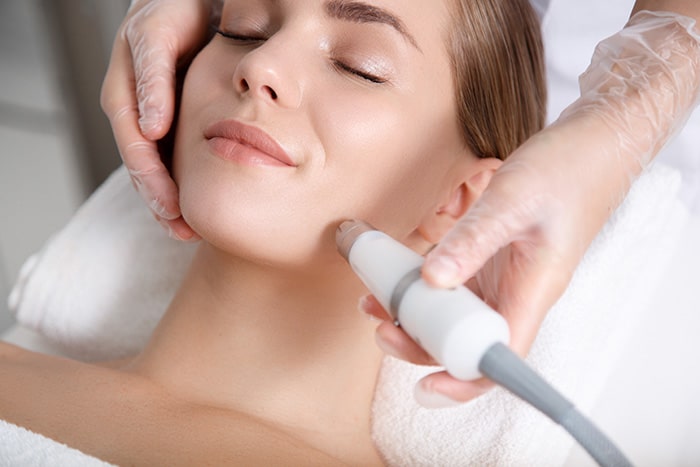 WHAT IS LASER SKIN RESURFACING?
Laser skin resurfacing uses an intense beam of light to accurately remove skin layer by layer. This procedure has been shown to minimize wrinkles, age spots, acne scars, and other blemishes while tightening the skin and balancing its color. However, since lasers can do so much and have such a broad range of effects on the skin, it's difficult to know where to begin when looking for a treatment—even a cursory search shows a slew of competing devices and methods.
We want you to be well informed rather than feel overburdened. So, before you go too deep down the Google rabbit hole, we recommend that you take a step back and read the following key points about laser skin resurfacing.
WHEN IS THE BEST TIME TO GET LASER SKIN RESURFACING?
Did you know that autumn is referred to as the "laser season"? Many cosmetic surgeons suggest laser resurfacing during the fall or winter months, when daylight hours are shorter and you spend much of your time indoors. This is because laser-treated skin is hypersensitive to sun exposure for up to a year after specific procedures.
After getting laser skin resurfacing treatment, regardless of the time of year, wear sunscreen with SPF 30 or higher every day and reapply as required. This will not only keep your results looking their best, but will also protect you from skin cancer and help you avoid premature aging.
WILL THE TREATMENTS BE PAINFUL?
The sensation felt during laser treatments is often compared by patients and physicians to a rubber band snapping against the skin. However, the feeling of laser resurfacing varies depending on the laser used, the depth and area of treatment, and the patient's pain tolerance.
To keep a patient comfortable during deeper ablative laser treatments, local anesthetic injections or intravenous sedation may be needed. CO2 lasers and Erbium YAG (Er:YAG) lasers are examples of ablative lasers.
Some non-ablative laser treatments—those in which the laser moves through the skin without removing layers—are relatively painless and require a topical numbing cream to alleviate discomfort. Pulsed dye, Nd:YAG, and Alexandrite lasers are examples of non-ablative lasers. Any tenderness in the treatment area is to be expected after the operation. If required, your physician will advise you on how to manage pain after laser resurfacing.
HOW MANY TREATMENTS DOES LASER SKIN RESURFACING INVOLVE?
Although single laser treatment can address a patient's concerns in some cases, most non-ablative lasers require a series of treatments to achieve the best results. This is a trade-off with a no-downtime procedure, but the effects are long-lasting after the treatment sequence is completed.
WILL THIS TREATMENT NEED SOME DOWNTIME?
While laser treatments are usually non-surgical, not all of them are without rest. The length of time it takes to recover from laser resurfacing varies depending on the type of procedure used, as well as an individual's health and healing rate.
Non-ablative lasers often require no downtime, while ablative lasers can require a 2- to 3-week healing period, depending on depth, until the new skin has fully healed and the final results are visible. This does not imply that you must remain at home for a month; rather, the skin will be raw, red, and scab over as it heals, so you may not feel at ease in social settings, and you'll need to adjust your behaviors to prevent infection (swimming, gym workouts, etc.).
We recommend contacting a board-certified cosmetic surgeon if you are considering laser treatments to enhance your skin.