CARE ESTHETICS ZANESVILLE
Advanced Facial Esthetics in Zanesville, OH
Your Home for Compassionate, Comprehensive Smile and Skin Care
Get all the dental and facial services you need in just one place, saving you time, money, and headache. Plus, our patient-friendly technology keeps your treatments quick and comfortable. You'll relax with amenities like massage chairs and blankets while our team works.
HAWKINS COMPLETE DENTAL SERVICES
Address: 2560 Maysville Pike, Zanesville, Ohio 43701
Postal code: 43701
Clinic hours:
Sunday: Closed
Monday: 9:00 am-12:00 pm
Tuesday: 8:00 am-5:00 pm
Wednesday: 8:00 am-5:00 pm
Thursday: 8:00 am-5:00 pm
Friday: Closed
Saturday: Closed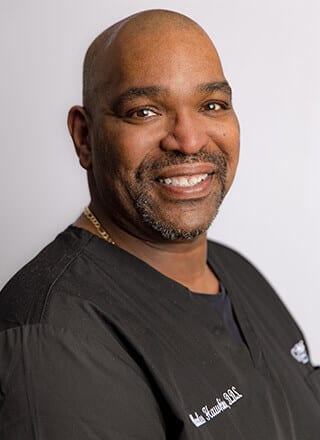 Dr. Charles Hawkins Stays on the Leading Edge of Dentistry

Why did Charles Hawkins, DDS become a dentist? It had a lot to do with the good example of his father, who was also a dentist and an orthodontist. Following in his dad's footsteps was natural for Dr. Hawkins, who saw dentistry as a way to help people lead better lives.
After attending Ohio University, Dr. Hawkins graduated from The Ohio State University College of Dentistry in 1994, then completed the Advanced General Dentistry program in 1995. He moved to Zanesville, OH with his family in 1996 and opened Hawkins Complete Dental Service in 1997. A multitasker, he also served as dental director of the Muskingum County Health Department until 2000.
Because of his commitment to offering the highest quality dental care, Dr. Hawkins is always interested in learning new dental techniques and has taken many hours of continuing education courses. His advanced training includes:
Orthodontic training from Light Force America
Invisalign certification
Intravenous sedation license from Albert Einstein University in New York
Graduate of the Misch Implant Institute
Advanced Dental Implant Studies Program courses
In addition, he is a member of numerous professional organizations, including the American Dental Association, the American Academy of Implant Dentistry, the Ohio Dental Association, the Muskingum Valley Dental Society, the American Academy of Dental Sleep Medicine (Diplomate status), and the International Congress of Oral Implantologists (Fellow status).
Dr. Hawkins especially enjoys getting to know his patients on a personal level and helping them smile confidently. When he isn't caring for patients, he is spending time with his wife, Robin, and their four children, Charles III, Jade, Nathan, and Grant. All four of his children are involved with sports, so Dr. Hawkins is too! At their sporting events, you'll find him either coaching or cheering from the sidelines. Other hobbies include traveling and preparing meals on the grill.
If you have any questions about CARE Esthetics or any of our procedures, please send us a message by filling out the form below. We will get back to you as soon as possible.